December 12, 2006
RIM sues Samsung over Black
by Brian Turner

Research in Motion (RIM) – the company behind the iconic Blackberry – is taking Samsung to court after the rival company released rival products, branded with "black" in their name.
Proceedings were filed after Samsung released two products targeted at the same high-end markets as the Blackberry.
The BlackJack, and Black Carbon, are both smart phones released by Samsung.
However, RIM contends that the use of "black" in their name is a wilful attempt to try and confuse the well-known Blackberry brand with Samsung's own newer products.
Well, let's just see if consumers could become possibly confused – below, 3 different series of Blackberry, and 1 Blackjack: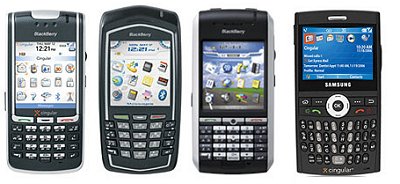 Hmmm…
Discuss this in the Internet Business forums
Story link: RIM sues Samsung over Black
Posted in: Technology